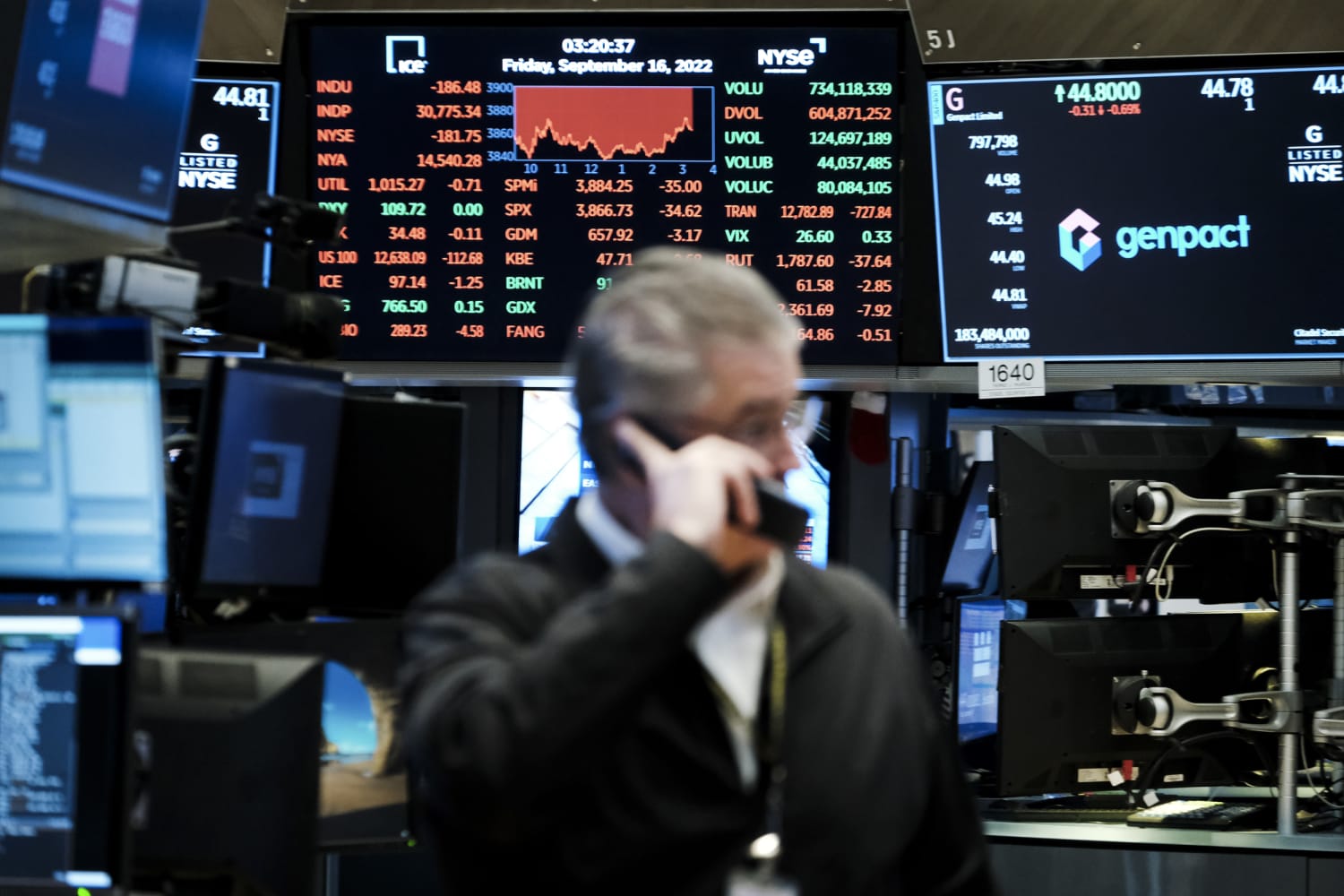 Stocks fell on Friday, capping a tough week for financial markets as rising interest rates and foreign currency turmoil heightened fears of a global recession.
The Dow Jones Industrial Average fell 486.27 points, or 1.62%, to 29590.41. The S&P 500 fell 1.72% to 3,693.23, while the Nasdaq Composite fell 1.8% to 10,867.93.
The Dow hit a new low for the year and closed below 30,000 for the first time since June 17. The 30-share index is down 19.9% ​​on a daily basis and flirted with bear market territory, at one point dropping more than 826 points.
All major averages capped their fifth negative week in the last six weeks, with the Dow shedding 4%. The S&P and Nasdaq were down 4.65% and 5.07%, respectively. It was the fourth consecutive negative session of the major averages as the Federal Reserve on Wednesday enacted another major rate hike of 75 basis points and indicated it would do so again at its November meeting.
"The market has been clearly and rapidly moving from concerns about inflation to concerns about an aggressive Fed campaign," said Quincy Crosby of LBL Financial. "You see bond yields rising to levels we haven't seen in years – it changes the Fed's way of thinking about price stability without a break."
The pound hit its lowest level in more than three decades against the US dollar after a new British economic plan that included a series of tax cuts rocked markets that fear inflation above all else for the time being. Major European markets lost 2% on the day.
"This is a global total mess that the market is trying to sort out," Crosby said.
Friday witnessed the fourth consecutive negative session for the major averages. The Federal Reserve decided on Wednesday to raise the benchmark interest rate by 75 basis points and indicated it would do so again at its November meeting.
Bond yields soared this week after the Fed's actions, with two- and 10-year Treasuries hitting levels not seen in over a decade.
Goldman Sachs lowered its year-end S&P 500 target due to higher rates, forecasting a drop of at least 4% from here.
The stocks that have suffered the most in the recession led losses this week with the discretionary consumer goods sector of the S&P 500 down 7%. Energy prices fell more than 9% as oil prices fell. Growth stocks including big tech names Apple, Amazon, Microsoft and Meta Platforms slipped on Friday.
"Based on our clients' discussions, the majority of equity investors have taken the view that a difficult downside scenario is inevitable and their focus is on the timing, size and duration of a potential downturn, and the investment strategies for these expectations," Goldman Sachs wrote. David Costin in a note to clients as he cuts his gaze.
The major averages are fast paced for their fifth decline in the past six weeks. The Dow has shed about 4.5% this week, while the S&P and Nasdaq are down 5.2% and 5.5%, respectively.
Source : www.nbcnews.com